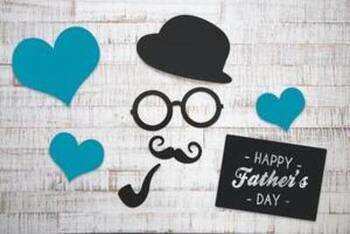 Father's Day 2023
Father's Day 2023 celebrates Dads around the world. It is a celebration of gratitude, appreciation, love, and love for the men that have played a major role in our life. This article explores Father's Day's past, how it's celebrated in different countries, ideas for gifts to make dads feel special, fun activities to create memories, inspirational quotes and messages, and ways to honor those fathers who have passed away. It concludes with a discussion of the importance to appreciate fathers.
Introduction
Father's Day is important because it gives us the chance to celebrate and recognize the invaluable contributions that fathers have made in our lives. It's a day for us to celebrate their unwavering support and love. By honoring fathers we express our deepest gratitude for the sacrifices made and the love provided by them.
Father's Day – History
Origin, early celebrations
Father's Day has its roots in ancient civilizations. Fathers were revered, and their celebrations were celebrated. Father's Day was first celebrated in the early twentieth century.
Sonora Smart Dodd was an American woman who is known for being the driving force behind the establishment of Father's Day as a national holiday in the United States. She was born on February 18, 1882, in Jenny Lind, Arkansas, and later moved to Spokane, Washington.
The idea for Father's Day came to Sonora Smart Dodd while she was attending a Mother's Day sermon in 1909. She wanted to create a similar day to honor fathers, as she believed they deserved recognition for their role in raising children. Dodd's own father, William Jackson Smart, was a Civil War veteran and a single parent who raised his six children after their mother's death.
With her determination, Dodd campaigned for Father's Day to be recognized as a national holiday. She wrote to various government officials and influential people, urging them to support the idea. Eventually, her efforts paid off, and in 1910, the state of Washington celebrated the first official Father's Day on June 19,1910
Establishment as a National Holiday
Over the years, the concept of Father's Day gained popularity and spread to other states. In 1972, President Richard Nixon signed a proclamation making Father's Day a national holiday, to be celebrated on the third Sunday in June.
Sonora Smart Dodd's efforts to establish Father's Day as a way to honor and appreciate fathers have had a lasting impact. Today, Father's Day is celebrated in many countries around the world, although the dates may vary. It serves as a time to express love and gratitude to fathers and father figures for their contributions to family life.
Fathers Day 2023 around World
Different dates and customs
While the third Sunday in June is the most common day to celebrate Father's Day, each country has its own customs and dates. Fathers Day 2023, for example, is celebrated in Australia on the 3rd of September 2023. In Russia, it is observed on the 15th of October 2023. Fathers day Uk 2023 is on 18th June.
Unique ways for celebrating
Father's Day celebrations vary around the world. In some places, families gather to celebrate Father's Day with special meals and outings. And in some countries, children will give gifts or cards to show their love and appreciation. In Mexico, there are many parades and events that bring families together to celebrate fatherhood. In the Uk people, visit their father, give him gifts and some go out for dinner with their father. Pakistani, people wish their fathers by giving them gifts or spending time with him
Fathers Day 2023 Gifts
Personalized Gifts
Giving personalized presents is one way to make Father's Day unforgettable. Gifts like engraved accessories, personalized photo albums, and mugs with heartfelt sentiments can show our fathers how important they are to us.
Tech gadgets
For dads who are tech-savvy, gadgets and accessories can be excellent gifts. Consider the newest smartphones, smartwatches and noise-cancelling headphones. These gifts allow fathers the opportunity to enjoy their favourite technological advancements while still being practical.
Outdoor gifts and sports-related gift
If your dad is a sports enthusiast or enjoys the outdoors, you can give him a gift that reflects his passion. You could buy him a set of new golf clubs or camping gear. Or tickets to a sporting event he is looking forward to. These gifts do not show thoughtfulness but also support the interests of your loved one.
Father's Day Activities
Planning your special outing
Plan an outing with Dad that will create lasting memories. You could go on a picnic in the park, or hike in the mountain. Spending time with your dad allows you to build a bond and shows him that you value the presence of his.
Cooking a delicious meal
Prepare a delicious meal to pamper your dad on Father's Day. You can make a delicious meal for your dad on Father's Day.
Creating handmade gifts
Handmade presents are personal and show that you have invested time and energy. DIY projects can be as creative as a scrapbook containing cherished memories or a handmade photo frame.
Father's Day 2023 Messages and Quotes
Heartfelt quotations for cards
Incorporating a quote from the heart into a Father's Day Card or Gift adds a personal touch.Quotes such as:
"A Father is someone to look up to, no matter what height you grow"

"Dad, you're my superhero and my model" can show deep appreciation and affection.

"Any man can be a father, but it takes someone special to be a dad. Thank you for being my guiding light, my pillar of strength, and the source of unconditional love. Happy Father's Day!"

"To the world's greatest dad, thank you for being my superhero, my mentor, and my best friend. Happy Father's Day!"

"To the world's coolest dad, thank you for being a friend, a mentor, and a constant source of laughter. Your sense of humor and zest for life make every day brighter. Happy Father's Day!"
Funny messages
Funny and light-hearted quotes can add a touch of humour to Father's Day. Quotes such as:
"Dad… you're my favourite dude (after me, obviously!)" are great. Or

"Thanks to Dad for teaching how to handle life's curveballs and dad jokes",

"Happy Father's Day to the dad who always knows how to fix things… or at least knows how to Google the solution!"

"Dad, thanks for pretending to be interested in my long stories, even though I know you're secretly checking your watch. Happy Father's Day!"

"To the dad who thinks he's the king of the grill… let's just say your burgers are well done in more ways than one! Happy Father's Day, grill master!"


Honoring the Fathers Who Are No Longer With Us
Ideas of Remembrance
Father's Day, for those whose fathers have passed away, can still be an important day of remembrance. Visit his grave. Create a tribute collage using photographs. Or light a vigil candle in his honor. These acts honor his memory and the impact he has had on you.
Celebrating Their Legacy
Celebrate your father by honoring his legacy. Share stories with him, cook his favourite food, or do the things he loved. By honoring his presence in your lives, you can honor him by carrying forward his values and passions.
Conclusion
Father's Day offers an opportunity to show your gratitude and appreciation for dads and father figures. It's the day to celebrate their love and support. Father's Day will be truly special if we understand the history of Father's Day. We should also explore different ways that it is celebrated throughout the world, consider meaningful activities and gifts, and remember fathers who no longer are with us.
Father's Day means more than just cards and presents. It's about celebrating the relationships that we have with fathers and other father figures. It is a time for us to reflect on how they have impacted our lives and express our love and appreciation.
Father's Day for those who've lost their fathers can be bittersweet. It's the perfect time to honor their memory and pay tribute to their accomplishments. By participating in activities to remember and celebrate their life and achievements, we keep their spirits alive and can find comfort in the knowledge that they are always a piece of us.
Father's Day should be a celebration of appreciation and reflection. It's the perfect time to pay tribute to fathers, father figures, and other father figures who have had a significant impact on our lives. Let's make Father's Day extra special by expressing love, spending quality family time, and creating lasting moments. Remember that our genuine gratitude, and affection, is the best gift we can offer. Don't forget to give Happy Fathers Day Gif t.
FAQs