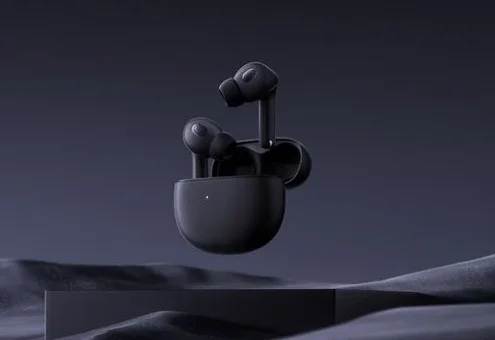 Introduction of Xiaomi Earbuds
New active noise cancelling Xiaomi earbuds 3t pro will compete with the AirPods Pro & Samsung Galaxy Buds Pro. Apple and Samsung have the market share in premium wireless earbuds. But Xiaomi refuses to let up and has just launched the Buds 3T Pro.
The premium features included in these earbuds include ANC and wireless charging as well as multi-point pairing. What are these earbuds like? Should you be considering them as your next pair?
Design of Xiaomi Earbuds 3T Pro
Xiaomi Buds 3T Pro is an in-ear style of wireless earbuds. They have a unique design. The buds have a matte finish, which feels great and protects against fingerprints. Glossy bits are also available across the stems. The case's entire exterior is matte, which provides grip and reduces the possibility of scratches.
Our review unit was in Carbon Black. This colour has a dark tint to it and shifts colour. The buds are held upright in the case by Xiaomi. Each earbud weighs only 4.9g while the combined case and buds weigh 51g.
Buds 3T Pro is a lightweight and ergonomically designed earbud that is very comfortable. I found that my ears didn't feel any strain during long listening sessions. This is unlike almost every other pair I've tried.
Touch Control Sensor
The stems have pressure-sensitive sensors which allow for control of the playback or ANC modes. The stems can be squeezed here, not the single-tap touch controls found on other earbud models. While I personally prefer the squeeze control, they are also fine. Although it is possible to control the volume of playback audio, this is not ideal.
The case has a premium feel and closes securely. The lid is strong enough to support the entire case when it's open. This is a hallmark of premium earbuds. It measures 65 x 48x24mm in dimensions and will fit comfortably into most jeans' small pockets. It has a USB C charging port on the bottom, and a pairing button. Wireless top-ups are also possible.
Waterproof
The entire package is IP55-rated waterproof. Three microphones are included in each bud. One is for voice pick up and the other two can handle noise cancellation. The retail package comes with spare ear caps in small, medium and big sizes. It also includes a Type-C USB charging cable.
ANC in Xiaomi Earbuds 3T Pro
The premium segment is Xiaomi's Buds 3T Pro. Their ANC claims that they can block out up to 40dB. The headphones are able to block out certain lighter sounds, but not at the same level as the class-leading Sony WF1000XM4 and Samsung Galaxy Buds Pro. The noise-cancelling feature is very mild and ineffective in the presence of strong winds, particularly if you are on a conference call. A sudden "underwater" hissing effect is experienced when you toggle the Noise cancel mode on. This is most common with lower-end earphones.
LHDC 4.0
LHDC 4.0 (Low Latency high-Definition audio codec) can be used by the buds. It can deliver a bitrate as high as 900 kbps if your phone supports it. Connecting the Buds 3T Pro to your phone is easy. You simply open the Bluetooth menu on your device and search for the Buds 3T Pro with their case lid open. Then, you hold the pairing button down for a few seconds.
Built-in- App
Xiaomi smartphones have a built-in app for earbuds that can be used to control the transparency and noise cancellation modes. It also has controls for gesture control, remapping, and battery status indicators. This has been said many times before, and I will again repeat it: It's high time Xiaomi introduced a companion app that works with non-Xiaomi phones.
Bluetooth 5.2
Bluetooth 5.2 connectivity is available on the Buds 3T Pro. Xiaomi claims it can maintain a connection for as long as 10 meters. They also support multi-device connectivity with up to two Android, iOS and Windows devices simultaneously. This feature was able to connect to both a phone and laptop. However, audio switching between the devices took a while to catch up.
In-ear detection, which detects your ears and pauses any media once you remove the buds from your ears, is another feature found on nearly all current earbuds. However, Xiaomi also offers head tracking and spatial sound features. These features only work with select Xiaomi phones and are more gimmicks than actual features.
Sound quality of Xiaomi Earbuds 3T Pro
Buds 3T Pro is equipped with 10mm dual magnetic dynamic drivers with sectional coating. They sound great. These buds cover a broad sound spectrum, without over-pronouncing certain aspects. They sound good, with clear vocals and bass that aren't too loud. Buds 3T pros aren't the loudest, but this doesn't mean there's any distortion.
Samsung's Buds Pro sound louder than competitors, and I've noticed better bass and isolation when using premium earbuds by Sony and Samsung.
The Xiaomi Buds 3T Pro are noticeably better than the Redmi Buds 3 Pro. I also have an older pair of Samsung Galaxy Buds+. Xiaomi does not offer any sound tuning for its earphones, regardless of whether they are paired to one of its smartphones.
The call quality is poor and is not comparable to premium earbuds by Samsung or Apple. Although I was in a quiet indoor environment, my callers reported that they heard me clearly during calls. However, there was lot of background hissing noise.
Battery lifetime
The Buds 3T Pro's 6-hour battery life is claimed by Xiaomi, while the case provides a 24-hour battery life. The Buds 3T Pro was able to withstand moderate usage for three weeks before it needed a refill.
A full charge will take 70 minutes. All Qi chargers or phones that support reverse wireless top-ups can also be wirelessly charged.
Verdict
The Buds 3T Pro Wireless Earbuds have good sound quality. They are well-made and offer a comfortable fit. They sound great with a balanced sound that doesn't overpower the bass.
Apple and Samsung headphones are louder and produce better sound quality, but the Buds 3T Pro feels better in my ears when I listen to longer audio sessions than the AirPods Pro or Galaxy Buds Pro.
Although the Buds 3T Pro has an ANC feature, the earphones are not strong enough to seal the earphones properly. This compromises its ability to deliver the required power. While the battery life is adequate and call quality is ok, it gets the job done.
These earphones, if you have a Xiaomi phone, are the best choice in terms of supported functions.