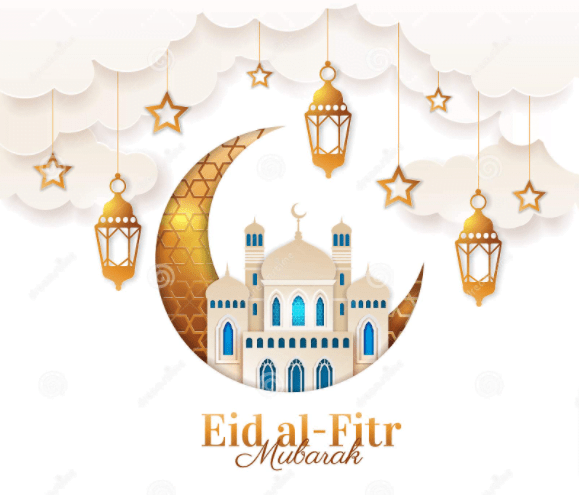 Eid ul Fitr 2022 is the Muslim holiday that marks Ramadan's final month of fasting, where Muslims refrain from eating and drinking between sunrise & sunset. The Muslim community will be looking forward to Eid ul-Fitr after fasting, prayer, and making sacrifices throughout Ramadan.
Knowing the date, you need to circle in your calendar is essential, especially as it changes each year. Learn more about the significance of Eid al-Fitr 20,22 as well as when it will take place.
When is Eid ul-Fitr 2022?
If this is your first experience with Eid al-Fitr, please note that it doesn't always occur on the exact same day every year. Eid al-Fitr, this year, will observe at sundown Monday, May 2, and end at sundown on Tuesday, May 3. Muslims always observe Eid al-Fitr throughout the Islamic month of Shawwal. However, the Islamic lunar cycle is used to determine when Eid al Fitr falls on the Gregorian year.
Even though Eid al-Fitr 2022 may be celebrated in the U.S.A on May 3, that doesn't necessarily mean it will be celebrated elsewhere. According to PBS reports, Muslims observe the crescent moon after the end of Ramadan and begin Eid al-Fitr. Muslims start Eid al-Fitr celebrations at different times because the moon may not appear on all days.
Why should we celebrate Eid ul-Fitr 2022?
Eid al-Fitr can be translated as "The Festival of the Breaking of the Fast", although it also signifies the end of Ramadan. The festival remembers all the virtues of the Islamic faith. Muslims believe that Prophet Muhammad (peace be upon him), a key leader in Islam's rise and spread of Islam, received the Holy Qu'ran for the first time during Ramadan.
Ramadan & Eid al-Fitr focuses on three of Islam's five pillars: Salat (praying), Sawm (fasting), and Zakat ( charity). Muslims will be following the example set by the Prophet Muhammad (peace be upon him), who led them in fasting to bring them closer to Allah. Eid al-Fitr is an occasion for Muslims to express their gratitude to Allah that they were able to fast and share their faith within the Islamic community.
How is Eid ul-Fitr 2022 normally celebrated?
Eid ul-Fitr is celebrated worldwide, with celebrations lasting from America to Pakistan. However, every community may not have the same traditions. Eid ul-Fitr can be enjoyed no matter where you're located.
A holiday usually starts with prayer and a special dinner. Muslims change into brightly coloured clothing for the day. They spend their day sharing delicious food and gifts with friends, as well as praying at mosques.
Eidi means candy and toys for children. Many Muslim families also give food and money to the needy; a gift is known as Zakat al-Fitr. This allows them to participate in the holiday.
Eid Al-Fitr in the majority of Muslim countries, and some American places like New York, is a public holiday where schools and offices will be closed. A lot of American cities with large Muslim populations host parties featuring lots of food and a variety of entertainment.
Eid prayers
Muslims dress up when they go to mosques. It's where they pray and have their first meal in daylight hours. At sunrise, the Salaat ul-Fajr prayers take place. Then it is time to go for a shower before the Eid prayer.
Salaat al-Eid will only be offered twice a year. The imam leading congregation will often instruct the congregation on how to perform the particular prayer before it begins.
What does the greeting "Eid Mubarak" mean?
Muslims will greet each other with the greeting "Eid Mubarak", which means that Eid is blessed. It is said on Eid and is the standard greeting for Muslims when they meet for the very first time. Many non-Muslims familiar with the meaning and expression of Eid Mubarak offer it as a greeting to Muslim friends and associates on this day.
What kind of food can you eat for Eid ul-Fitr?
Eid, which is a feast, comes after a month of fasting. Muslims cannot fast on this date. The menu is not set, but the dishes served are rich and delectable. Try our top Eid recipes to create your very own menu.
Samosas (salty rice flour puffs), meat-filled pastries or kebabs, Kheer, vegetarian pakoras or chicken pakoras are common examples of savoury snacks. Sweet snacks can include sheer khurma, halwa and coconut samosas.
For starters, you might like chicken tikka and the roast chicken dish. No Eid dinner is complete without biryani or pilau. This rice dish is made with tender masala-cooked chicken pieces. Even simpler dishes like jeera can be as satisfying, though they are less complicated. You can enjoy any of these rice dishes with a classic lamb, potato curry, beef or chicken bhuna. You must also have a salad. A classic tomato salad, for example, is simple and complements the rich meatiness in all of these dishes. Some people love to cook dishes like lamb curry.
When you still have time after lunch to snack and eat, you might want to finish the meal with homemade gulab jamuns, rasmalais, Kheer, or firni. For a hot cup of tea, sweet zarda is a favourite. However, fresh cream cakes are perfectly acceptable if Indian sweets appeal to you. Who can resist a slice of cake?
When do you expect Eid ul-Fitr to end in the near future?
Eid al-Fitr falls about a week before the year previous. The holiday will most likely be celebrated in the years ahead.